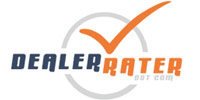 Dealer Rater is the first car dealer review website worldwide. It an independent rating website and Eastern Shore Toyota is not related in anyway to it. Dealer Rater currently features more than 38,000 US and International car dealers and 300,000 user reviews. DealerRater provides the opportunity for users to search for car dealerships, read current reviews, write their own review.
We have listed some of the reviews we received on Dealer Rater. You are welcome to read them and also take a few minutes to share your own experience on Dealer Rater.

We are a DealerRater.com Certified Dealer and are committed to providing quality customer service. As a Certified Dealer, we have the opportunity to contact our reviewers that had unsatisfactory experiences at our dealership. Thank You once again for taking your valuable time to post your review.

Dealer Rater Reviews:


Reviewed by Kris Sims on 9/19/2017

Fantastic ! I love my new 2017 Toyota Corolla IM ! I could not be happier ! Everyone at Eastern Shore Toyota was so friendly and made the purchasing process easy. I also got a great deal. A special thanks to Clayton and Kaitlynne for their help.


---



Reviewed by Linda Gatrwood on 9/5/2017

I cannot say enough good things about this dealership. Jessica Givens & staff went beyond my expectations, considering my circumstances with the first Tacoma. I will recommend Jessica Givens & Eastern Shore Toyota'to anyone, which I already have.


---



Reviewed by Apete529 on 8/30/2017

Purchase of 2017 4Runner We had been looking for a few weeks at used and new 4Runners. We had been to Eastern Shore and met Seabo Campbell. He showed us a few vehicles, and we drove a few. We kept searching. Seabo called us and said he had something we might be interested in, so please come take a look. We came and looked at it but it still wasn't what my wife wanted. After looking at some others he had, and driving another we found the 'one'! He worked with us patiently and with so much grace! He and his manager truly made our buying experience wonderful! We couldn't be happier to have bought exactly what we wanted from Seabo at Eastern Shore Toyota! ????????


---



Reviewed by kayleewiggins on 7/31/2017

My husband and I just purchased a brand new Toyota 4 runner and our experience was nothing short of AMAZING!!! Justin Stanton and his team were GREAT!!!!! We will always buy our vehicles from here and will definitely recommend this dealership to our friends and family. :) P.S.- Our finance manager was great too, just cant remember his name!


---



Reviewed by Dana Weeks on 7/30/2017

Josh was excellent in assisting my mom and I with a purchase of a car. He was very informative and gave us a variety of options to choose from. I not only bought one car that day, I bought 2. Will be returning to purchase my next vehicle.


---



Reviewed by aircoolin on 7/26/2017

I had a great experience from start to finish. Trumaine Cook was my sales professional and he should especially receive high marks. Trumaine and the support staff, including the F&I manager stayed waaaay past closing time to make sure I was taken care of and received my vehicle from them. Even their detailed stayed past closing! Each step along the way made me feel valuable and O will be sure to recommend them for others looking for a new vehicle.


---



Reviewed by phnita jackson on 6/12/2017

I had a great experience at Eastern Shore Toyota. Justin was very friendIy and helpful. I would recommend all of my family and friends to this dealership.


---



Reviewed by Auburn fan on 5/31/2017

I just finished purchasing my second brand new Rav4 from this dealership and sales professional, Justin Stanton. After purchasing my first Rav 3 years ago, I had all of my service done at this dealership as well. Every time, the service was amazing. Very comfortable facility and ultra-nice staff from service professional to cashier. However, Justin is absolutely the best! He treats me like family. Even called me on my birthday! I was unavailable to come to the dealership when I was interested in my second Rav and he brought it to my house for me to view and test drive while he was on his lunch hour!!! He has just been the absolute best. If I decide to buy again, I will use Eastern Shore Toyota and Justin Stanton!!!!


---



Reviewed by fgardner on 4/23/2017

My wife and I love our Sienna van. It had around 42,000 miles on it and was in need of tires. I was dreading the process pricing tires all over the Internet trying to make a decision. I brought the van in for regular maintenance service and Billy West made the process so easy. I got the factory recommended tires at an excellent price. I live in West Mobile and have been coming to Eastern Shore Toyota for around 8 years now the sales and service are some of the best I've ever experienced. Thank you


---



Reviewed by RonJon40 on 4/20/2017

Came in for a routine oil change and a free car wash while we were at it. The waiting area was very clean and the seating area was very comfortable. Enjoyed the coffee and sandwich bar which were fairly priced. Bathroom was very clean as well. We did not make a scheduled appointment so our wait was approximately 45 minutes. Took that time to shop at SAM's club that was located next door. The staff was very friendly and this dealership definitely sets the bar for others to follow. Personally I have never had bad service at this dealership. Knock on wood. :-)


---



Reviewed by ZEN on 4/9/2017

Hubby gave me a surprised present .....came to the dealership and discuss with Mr. Joshua about the brand new vehicle i really loved.....the whole team works and help us closed the deal...guess what??? after few hours, i got my key and finally drove me a brand new car......everybody is amazing !!! Thank you Mr. Bruce ( sales GM ) Ms. Reyhan ( Finance Business Manager ) Mr. Joshua Pruitt ( Sales rep..) Ms. Wendy and Ms. Loretta for taking care of the paper works.....I got my vehicle Thursday and finally took care of my Tag Tuesday....now i am so confident driving my Brand new Rav 4........Thanks a bunch Eastern shore Toyota team !!!!!!!


---



Reviewed by Jonathan B on 3/30/2017

I brought my car to the dealer for a basic 15,000 mile service. They told me it was not time for my car to be serviced. The car was purchased at this dealership. This car was serviced for the first and only time at 5000 miles and the odometer was sitting on 15,000. So when you pull up to the service department and the Service Advisor tells you it is not time for your car to be serviced, you wonder how they have the job they have. I wouldn't advise anyone to purchase a car at this dealership. The service department is incompetent.


---



Reviewed by Jeffrey on 3/8/2017

We could not be happier. The vehicle was immaculate, both inside and out. The staff went above and beyond to make our buying experience a success. The dealership was clean, friendly and inviting. The website was bright, user-friendly, and informative. Our only regret is that we live three hours away and can not easily take advantage of their after-purchase services. Thank you Eastern Shore Toyota for an enjoyable, no-hassle experience!


---



Reviewed by Larry on 2/22/2017

Invoice on sticker shown was 2500.00 more than invoice in glovebox. Had to go back to dealership and they offered compensation after being caught. Warranty enhancement was used by Toyota to acknowledge an issue with turn signal lense and service department was notified. However, dealership knew of issue and when truck was in for service on numerous times they neglected to notify customer and time expired to get work done with enhancement process. Dealer also does not post my reviews this is the 3rd one I am trying to post. They pick and choose only goo revues!!! BUYER BEWARE


---



Reviewed by Livininob on 2/16/2017

I would like to recommend Eastern Shore Toyota. The entire experience was great. Great facility. Great staff. Great selection. Great product. I love my Rav 4 and feel appreciated.


---



Reviewed by ARMYinfantry on 2/12/2017

Greetings all. To begin I am an ARMY infantry veteran, this is being noted as professionalism and work ethic were at the forefront of my duty for the entirety of my military career. That being said, I recognize levels of professionalism on all ends of the spectrum both objectively and with a focused mindfulness. I also sense the quality or lack of quality of services being rendered by a business or marketplace just as thoroughly as the aforementioned. I arrived at Eastern Shore Toyota for the first time on Saturday, 2/11/17, and immediately felt relieved as the Assistant Service Manager, Mr. Billy West, demonstrated active listening to all of my concerns both directly and indirectly involved with the issue at hand. He also took the time to address elements we discussed which had no bearing on the day's visit. I bought my Tacoma in the north east and due to the salting of the roads, numerous bolts were rusted in place so my servicing took a few hours. As I waited in the lobby, (filled with lush, comfortable chairs, coffee, and a dining area/cafe, Mr. West would periodically stop in and fill me in on updates as my servicing was taking place. This was especially appreciated as it demonstrated that both Mr. West and Eastern Shore Toyota take great pride in their level of professionalism and customer service. First impressions are crucial, and in this case, as I live in Pensacola FL, have no problem driving 40 minutes for future servicing from this dealership[p.


---



Reviewed by Laura334 on 1/31/2017

Seab Campbell was my salesman and he made the experience great! Seab was patient because I couldn't decide what I wanted and he took time to let me drive several cars. Then Seab found an awesome deal on a great car that I didn't think I could afford! If you go, ask for Seab Campbell!


---



Reviewed by JParnell on 1/23/2017

They did not push you to buy a vehicle and the service was excellent! They helped out so much and everyone there was so nice! I will definitely buy my next vehicle from there also.


---



Reviewed by Jdw601 on 1/21/2017

Came to the dealership hesitant about buying a used vehicle. Seab Campbell greeted me right off the bat and made me feel comfortable. Seab helped me find a car that matched my wants and price range. I left happy with my new car, thanks Seab and Eastern Shore Toyota!


---



Reviewed by Aliaha Oliver on 1/19/2017

She was excellent at explaining everything.Took real good care of me had my radio station on in my new car when I got in. The Office were I did my final paper work could use some tips in customer service from her.


---



Reviewed by Shae on 1/13/2017

It was great customer service made the process easy and quick. And she's has great customer service and will with anything you need. Go see Mrs.Jones if you need a car.


---



Reviewed by VanGuy on 1/13/2017

I placed an inquiry online. Seana responded immediately and worked with me via text as I was traveling about 45 minutes after work to view the vehicle I was interested in. She had the vehicle waiting and met us at the door. She gave a sufficient overview of the vehicle and proceeded with our test drive. I gave her our offer and only having to work with finance for less that 45 minutes they were able to make the numbers work and we were on our way in our new vehicle. I would highly recommend the dealership and Seana as a salesperson.


---



Reviewed by PrivateUser1984 on 1/9/2017

Everything went smoothly, no complaints at all. The staff were incredibly friendly and accommodating, even stayed late to finish our paperwork. I drove away 100% satisfied.


---



Reviewed by Kason4909 on 1/1/2017

Went to trade my car in. Got horrible service from a manager. They took my vehicle and hid it from me so I could not leave. Made me feel unwelcome and unimportant! I was told that I was waisting their time. Never will I ever shop there again.


---



Reviewed by Kyle on 12/2/2016

I will never shop here again. I recently made a purchase of a 2010 Nissan Titan at eastern shore Toyota. This was my first truck I have ever bought. After looking at it and taking a test drive I loved it. The first salesman I dealer with stayed on his Facebook the whole time, including the test drive. When he asked if I was interested in buying it that night, he followed it by 'I don't think this is the truck for you'. Left me speechless. I went to a different salesman to do business. It took them 6 days to finalize my paper work. 6 days. Rediculous. But I patiently waited it out and finally finalized everything. After a week of having it, I found out the heater did not work, after which I was told a 60 point inspection is done on there cars, and a/c and heat is on that check list. So obviously this was not checked. So I go back to them to have them fix it, I was told to return the next day. I returned the next day, and of course 'our manager is on vacation for the next week, come back on the following Monday (I went on a Tuesday). The following Monday rolls around and they call again and tell me to come back the next day. So finally after I get to actually talk to them, they told me that they would not fix it at their cost. After arguing with this man and the salesman who sold me the truck, my truck was finally being looked at the next day. That evening, it came to my awareness that the reverse lights did not work, and the windshield leaked to the point the whole headliner was soaked! So now I take it up again to speak to a manager, after 45 minutes, no one had came to speak with me. A 3rd Salesman had to assist me because no one would come and helped me get them to actually look at it in the shop. I was then told they would look at it and take care of everything and put me in a rental truck for the time being. Now after them having it in the shop for 2 days, they mentioned that I may have to pay for it. I have already been told it would be taken care of and did not agree to them putting parts into my truck if I had to pay for it. I was not called on a repair price or anything. So I guess they just assume they can do whatever on people's vehicles and not call the customer to make sure they could do the repair at the price of their work. I am not paying for these repairs for many reasons. 1:I've had this truck less than a month and have had nothing but problems after being told it was inspected 2:obviously these were not checked on there '60 point inspection' which tells me the truck was not checked at all. Eastern shore Toyota is nothing but a scam and a terrible place to do business. I will never do business with them again nor will I ever recommend someone to go there. Worst business EVER. If I had the option to give you 0 stars I would


---



Reviewed by southenspiced on 11/27/2016

I had a negative experience at my local Toyota dealership so visiting Eastern Shore was like a breath of fresh air. I'd waited a little over a week for the local dealership to find a Corolla S in electric blue. I saw the car online while price comparison shopping and fell in love. After being called back and told that my car was in at the other dealership and driving all the way to town to find that not only was my car not in, they tried to cram me into an SE claiming it was the same thing and that I'd just need to settle for a different color because they were giving me the deal of the century. I threw my hands up and decided to look at the other two 'local-ish' dealers. Eastern Shore called me after I inquired on the price of a used electric blue corolla s, and my salesman set an appt to show me that car that afternoon. I was thrilled to see a HUGE dealership with a LARGE selection of new Toyotas when I pulled up and my car sitting up front with a reserved sign on it waiting for my test drive. My salesman Willis greeted me out front and without any hassle handed me the keys to take the car I was interested in for a spin. Financing wouldn't allow me to buy the used and get a good deal and while we sat at comfortable tables and sipped complimentary drinks while our daughter played pool with another little girl they worked a fabulous deal on a new toyota in the exact color I wanted. It was pulled up out front and ready for a test drive before I even missed out sales guy. Eastern Shore handled my customer service experience like pros, the car I bought is almost exactly what I went out looking for I wasn't shown 10 cars I didn't want, to get to it, and no one came around lying about giving me a no profit deal. If the service department is half as good as the sales department I'll continue to drive 50+ miles out of the way to deal with Eastern Shore instead of my local dealership. Thanks guys!


---



Reviewed by DONTGOHERE on 10/17/2016

The service provided for our Toyota by this dealer has consistently been disappointing to say the least!!! From the oil change which took three visit to get right (1st attempt - put wrong type of oil in, 2nd attempt overfilled crankcase to the extent that shop foreman drained / changed himself for the 3rd time in the same day). Next had to contact Toyota's Regional Manager to force Eastern Shore's service manager to honor a battery warranty. The final straw came today when I took in the safety notice regarding the rear lower suspension arm recall we recently received. After presenting the letter to the service advisor, who acted as though he'd never heard of the issue though this is the third recall / fix Toyota has issued for the same defect in the last 3 -4 years, he left to consult with another individual. Upon his return he advised me that replacing the 'spring leafs' would take 3 to 4 hours. The topper is... our car, a RAV 4, does not have 'spring leaf' suspension... Confidence level ZERO... save yourself ... find another dealer!!!


---



Reviewed by Rebecca Doise on 10/12/2016

All my questions and concerns were addressed directly and in the end I left with a car that I am quite satisfied with. Thank You Andrew and Joe ( finance).


---



Reviewed by Kittyd on 10/8/2016

I had a great experience at Eastern Shore Toyota. Seana was the best! She was very attentive, and was very helpful in getting me the exact vehicle that I wanted.


---



Reviewed by Glirl Vaughn on 9/29/2016

The sales staff, management, and finance team were super kind, easy to work with and exceeded my expectations when making my purchase of my new 2016 Corolla!


---



Reviewed by Russrod on 9/24/2016

Arrive there to purchase a vehicle made a deal was told to return the following day to sign paperwork and my vehicle was sold out from under me they seem to be very unprofessional and they like to change prices or jerk you around and put hidden costs in their paperwork


---



Reviewed by Old Grouch on 9/6/2016

.Arrived at dealership and the salesman was very nice and courteous.After the negotiations were done we went into finance.We felt during the finance process that if we didn't buy all the stuff offered we couldn't have the car and he told us if we bought the extras he would give us a better interest rate.Don't get thatThen when delivery of the car took place it was like here's your keys and books,thank you, and have a nice day that's how we feel.He did answer any questions we had but we felt he should have helped us set up the car,not all the options but at least showed us how to use some of the necessary ones.He did help us set up the phone after we asked him about it.This car has alot of things on it .Dissapointed in that a lot.Sales Manager day after offered for us to bring the car back to have some one help us but why wasn't it done at purchase.Guess that's what youtube is for now. Guess it's the new modern way of doing business.Thank goodness their service department is not that way.Dealt with them for 4 years now on a previous car and service has been 5 stars.Gotta say I was highly disappointed in the buying process.I just don't get it !!! I'd give service 5 stars, but up front it's sloppy Just my opinion maybe not everyone has had an experience like this.Buyers remorse after purchase, absolutely not at all.


---



Reviewed by Jim123 on 7/6/2016

Eddie Fagan Introduced me to Charles Roy Who is solely responsible for selling me this Beautiful Toyota tundra I had ordered with him. I'm not easy to sell anything to , I do a lot of research that most salesman don't have patience for. The first thing I look for at a dealership is first impressions of a honest salesman and no BS answers. Charles Roy is honest , completely straightforward , compassionate about selling me what I'm looking for .Charles is very knowledgeable of what he is selling but if he didn't have an answer he found it out immediately, I felt very comfortable and not pressured by this gentleman and will be back to buy from him again. I'm very impressed with the dealership and the professionalism I was treated with there , What a great organization and well-planned system, very clean, greeted at the front by an associate or by Charles when I had appointments with him . Charles also followed up by phone calls for a couple days after taking my truck home to make sure everything was going good and there was no problems, Nice touch ! Thank you Eastern Shore Toyota .


---



Reviewed by Williams on 7/1/2016

My wife and I paid cash for a new Toyota Highlander. Salesman and manager misrepresented final deal price. Even though cash was paid for car and a loan was never considered or applied for, dealership issued a falsified 'Notice of Adverse Action' which stated that credit was denied or offered at lower terms. Salesman and management misrepresented that we had to sign a 'credit application' so they could verify our personal check, but assured us that no credit application or transaction was actually occurring. Finance/Closing agent (Reyhan Sewer) was curt, dismissive and unhelpful. She insisted that we sign several inappropriate and inapplicable documents, some of which had to be modified or refused to sign completely. After transaction was complete, dealership, which had been paid $800.00 for 'processing' negligently provided improper title documents for a 'surety bond' title which had to be redone while we waited at the motor vehicle license office.


---



Reviewed by littlebettyjr on 6/22/2016

Best car purchasing experience ever! From the moment I entered the dealership, I felt absolutely no pressure and was greeted by numerous hellos and smiles. I had an appointment with Seana Jones, VIP Coordinator. She was exceptional! The gentleman that detailed the car, told me thank you, have a blessed day and be safe. I can honestly say that the round trip from Montgomery to Daphne, AL was well worth it. I drove away in my new Camry XSE and have not missed my 4Runner one moment. Zoom zoom zoom!!!!


---



Reviewed by Ctimmons on 6/13/2016

Ross did an outstanding job if delivering our car immediately. His customer service exceeds our expectations and his communication is outstanding. He is a big part of why we choose to do business with Eastern Toyota


---



Reviewed by Fabienne Norman on 6/13/2016

Considered, polite and competent service. Charles Bryan and Debbie Newell did everything to satisfy our questions and meet our expectations. They were flexible and good-natured during the whole process.


---



Reviewed by Brooks on 6/2/2016

Plenty of time was taken to find the car you wanted. It was difficult to find the car. Happy with outcome having all the major components required.


---



Reviewed by Dango on 6/1/2016

I have been a customer of ES Toyota for years. I have now bought three cars from the dealership and if I wasn't getting excellent service I would have never come back. The people are friendly and helpful. Got great deals every time.


---



Reviewed by Sheryl Newell on 5/9/2016

We were contacted by a sales agent, Arend Verdel, after we inquired on the internet about a used vehicle. We went in the next day, but arrived very late for our appointment. Arend greeted us and politely asked if Willis Barnes could show us the vehicle. Willis was very friendly, funny and professional. We loved the vehicle and the used car manager worked a great deal for us. He was very understanding about our budget and the fact I currently am being treated for breast cancer. Kyle Towner the finance manager made the financing process, quick and easy. He was very kind, thoughtful and explained all of our warranty options. We had a few minutes to wait for the vehicle to be cleaned and both sales agents sat down and visited with us and served us ice cream. It was an amazing experience! We are moving to the area in June and cannot wait to see everyone!


---



Reviewed by Billy Bean on 5/7/2016

We live approximately 160 miles from Eastern Shore Toyota, we visited the dealership about a month before we purchased a car (we met Zachary Romero), both experiences were extremely pleasant. We did not feel pressured at all to buy anything. Our salesman Mario Marquez did everything we asked for and was very helpful. Due to our long commute our salesman took pictures of the cars we were looking at and sent them to us very quickly so we could see the cars better and make up our mind if we wanted to look at the cars in person, so that we did not drive a long way for no reason. While we were on our way to the dealership the manager Jeff Iwanowski called to greet us and check on us before we ever got to the dealership, he also checked on us while we were at the dealership to see if he could do anything for us. Thank you to Zachary Romero who helped us via phone even though he was not working the day of our purchase.


---



Reviewed by Franklin.Roberts on 4/29/2016

We had an amazing experience buying our new truck here. This is by far the nicest salesman and sales experience we have had during this process. Scott Mandler was our salesman and he was not at all pushy but very informative and answered all questions and concerns knowledgably. We will be returning soon for our next vehicle purchase as long as Scott agrees to be our salesman. Great job!


---



Reviewed by Happy Housewife on 4/28/2016

I was looking to replace my Camry with an SUV. My salesman was the best! He took the time to show me the SUV's, answered all my questions, discussed all the options, even drove me around the lot till we found the SUV I had looked at on-line. Travis is a very nice and polite gentleman. He made it really easy to let go of my 1995 Camry. This is the second car my family has purchased from Eastern Shore Toyota. I love this dealership! Great amenities to make your buying and service experiences pleasant!


---



Reviewed by Gretschguy850 on 4/22/2016

Very impressed with this company. No pressure sales. Easy to work with. Great staff! They made car buying easy and gave me the price I was wanting!


---



Reviewed by Vacationer on 4/21/2016

On our way home from vacation, we make a quick stop to check out new Toyota's and had the most welcoming, delightful, informative experience with Debbie and Justin making us feel at home, answering our numerous questions and showing us hands on the many features of Toyota Camry XLE which were new to us. We were so impressed after driving the car and sitting and discussing the car features with Debbie that we bought the car and drove it home. The process was so pleasant, things were handled quickly and even the waiting time was pleasantly passed with refreshments and great conversation with Debbie which made the time pass quickly. I have recommended to my friends interested in buying a car, the experience with Eastern Shore Toyota is well worth the drive!


---



Reviewed by dancecoach1 on 4/16/2016

The people were nice as soon as I walked in. They offered something to drink n the salesman n finance lady was really nice. Most of all they closed my deal n I was not there all day. EXCELLENT PLACE N I WILL RECOMMEND .


---



Reviewed by Juliewelborn123 on 4/1/2016

Mack did an amazing job helping us find a car for our granddaughter. He was very kind, not like your typical car salesman. If we were ever in the market for another car we would definitely come back to Eastern Shore Toyota. You rock Mack, thanks for your help!!


---



Reviewed by Samgeisler01 on 3/31/2016

Very impressed by salesman, Anthony Waight, who did a fantastic job moving the process along and tending to our needs. Love the car and would not think twice to buy from Mr. Waight or Eastern Shore in the future.


---



Reviewed by arrownetworking on 3/30/2016

I had had one hiccup with Eastern Shore Toyota several years back, but I saw a used vehicle that I was interested in at their dealership and went to look. I figured that I would look and leave but drove the vehicle and decided to make an offer pending an inspection by my mechanic. My offer was accepted and I went the next day, got the vehicle to take to my local mechanic. The car was as they said it was and I purchased the vehicle using my own financing. I will say that their dealer fee of $800 is completely out of line, but I knew that before I made the offer and make the offer price accordingly. I declined the extended warranty, paint protection, free gumballs for life, ect, ect. I am pleased with the deal and more importantly by Willis Barnes and his sales manager. I know this dealer gets a lot of negatives, but I will do business here in the future. As a plus, the dealership building is very nice and interesting.


---



Reviewed by sandra tomlin on 3/25/2016

Was told the repair on my car would take 2 days. The afternoon of the third full day was told that mechanic was staying over late to finish so it would be ready the next morning. Called this am ( 4th day), and was told by someone from service scheduling that it wasn't ready and that she would find someone in the service dept to pull the ticket and check with the mechanic on status of my repair. After 14 minutes she came back on the phone and asked if they could call me back. I asked to speak to the service manager. She transferred and phone rang 9 times . No voicemail. Phone automatically hung up. 15 minutes later I called back. Got the same girl. Finally talked to someone in the service dept who said they are about to drive the car 15 miles to check it out and if ok then I can pick it up. This repair was for excessive oil consumption and covered under the warranty enhancement by the manufacturer due to defect. The manufacturer approved 2 day rental car coverage which leads me to believe that they expect it can be done in 2 days. It is now 1130 of the 4th day and still waiting!!!


---